Iammeter Cloud và ứng dụng
Giới thiệu
IAMMETER-cloud is a dedicated Energy Monitoring System developed to seamlessly connect with our Wi-Fi energy meter. It enables real-time monitoring of electricity usage across diverse settings: household, commercial, industrial, and solar PV systems.
Our wireless energy monitor hardware device - the WiFi energy meter - empowers you to effortlessly track home energy usage, energy production, and grid-exported energy in solar systems. Detailed analysis reports provide insights into your electricity bill or the revenue generated by your solar system. With this platform, you can effectively monitor, analyze, and optimize your energy consumption.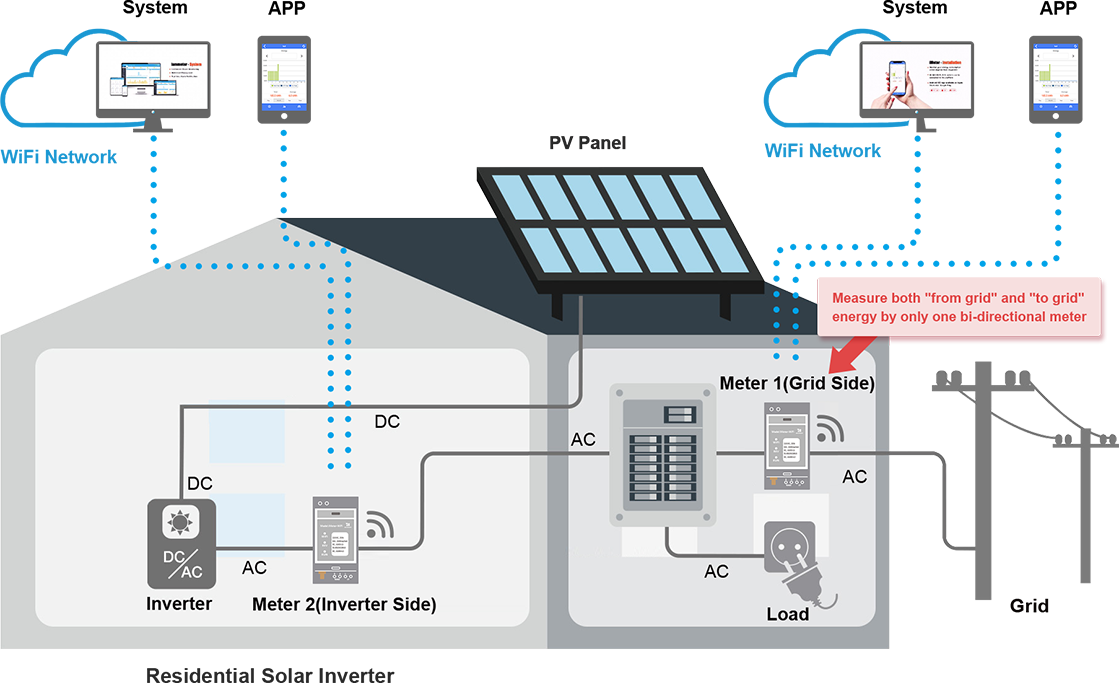 Các tính năng chính
Real-time Tracking: Monitor electricity usage in real-time for residential, commercial, or solar PV systems.
Comprehensive Data: Access real-time statistics, historical data, and energy consumption analysis (voltage, current, energy, power, grid transactions, etc.).
Visualized Analysis: Visual representations of real-time and historical data for easy comprehension.
Solar PV Monitoring: Track energy exported/imported from the grid versus solar production in PV systems.
Easy Setup: Seamlessly connect our WiFi energy meter to start monitoring power consumption with a simple setup.
Tariff Customization: Set power tariff for different billing methods (fixed rate, tiered rate, time of use rate).
Alert Notifications: Set alerts for accumulated electricity consumption or out-of-range power levels.
Comprehensive Reports: Gain a deeper understanding of your electricity bill or solar system income.
Billing Cycle Forecast: Forecast power consumption and electricity bills within billing cycles.
Ứng dụng di động: Android/iOS app available on Google Play or Apple Store for convenient access.
Key Functions
Overview Dashboard
Hệ thống PV năng lượng mặt trời
https://www.iammeter.com/application/solar-pv-system-monitoring
Mời bạn ghé thămHệ thống giám sát pv năng lượng mặt trời của IAMMETER-cloudđể đăng nhập tài khoản demo của IAMMETER-cloud và hiểu tất cả các chức năng của giám sát điện mặt trời
Nó sẽ hiển thị giao diện người dùng khác nhau nếu bạn truy cập vào liên kết demo thông qua máy tính hoặc điện thoại thông minh.

You will see same UI with IAMMETER web portal if you access to the demo link by computer. You will see same UI with IAMMETER app if you access to the demo link by mobile phone. We recommend you to access via computer so you can see more functions and reports.
Energy management system
Vui lòng tham khảo trướcManage your energy consumption in IAMMETER-cloud
Quick View Energy Consumption and Bill
View energy consumption and electricity bills simultaneously for different locations on a single page.
Power Tariff Configuration
Customize power tariffs for energy consumed from the grid (Power Tariff) and energy exported to the grid (Feed-in Tariff).
https://www.iammeter.com/docs/set-power-tariff
Billing and Income Reports
Báo cáo 2 - Thanh toán & amp; Thu nhập = earnings
Total Saving Report
Total Savings = Direct Self-use Energy + Exported Energy
Báo cáo 3 - Hóa đơn & amp; Thu nhập & amp; Tiết kiệm
Comprehensive Energy Consumption Analysis
IAMMETER generates detailed reports for comprehensive energy consumption analysis.
Mức tiêu thụ điện và Dự báo hóa đơn tiền điện
https://www.iammeter.com/docs/energy_forecast